Brinno ART200 Rotating Camera Base Review
Active Gear Review is supported by its audience. If you purchase through links on our site, we may earn an affiliate commission.
"Unleash a new creative dimension with the Brinno ART200 rotating camera base. Capturing amazing panning time lapses or smooth sweeping video has never been easier. Compatible with Brinno's time lapse cameras, action cameras, smartphones, compact DSLRS, Micro 4/3 cameras and others. The app controlled Pan Lapse can be secured to a tripod or any level surface to automatically rotate the camera 15-360 degrees to capture unique footage."
The ART200 is an affordably priced, Bluetooth app controlled pan head with an interval meter feature found only in more expensive units. Using the simple Brinno app, makes it easy to set the rotation speed from extremely slow to a constant sweep, as well as the ability to set the capture interval, direction and panning angle.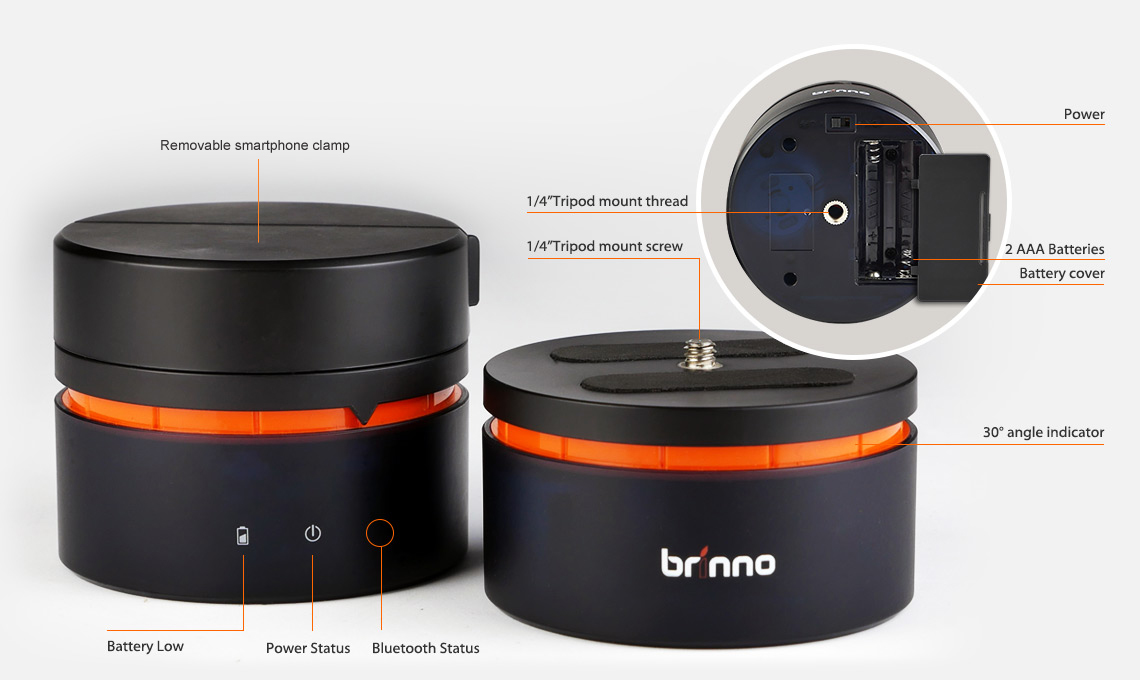 App programmable rotating camera stand allows you to take smooth, sweeping real-time videos or panning time lapse videos.
From within the app you can easily set speed of rotation, time lapse time interval, panning angle and rotation direction.
Operates on 2 AAA batteries (included); battery life ranges between 48 hours and 30 days, depending on camera weight and speed setting
For use with Brinno cameras, digital video cameras and action cameras using tripod mount, or smartphone using the included screw on clamp.
Mounting
The ART200 is equipped with a 1/4″ standard tripod mounting screw on top and a 1/4″ mount thread on the bottom, which provides endless possibilities for tripod and camera equipment attachment.
Brinno's App

The Brinno Pan Lapse App is available for Android and iOS. From within the smartphone app you can easily set the following:
– Speed of rotation (1-10 or infinity)- For time lapse video 1 = slowest, 10 = fastest. Use infinity for real time video. Speed ranges from one rotation every 70 seconds to one rotation every 30 days.
– Time interval (0-240 seconds)- This is the time lapse interval that your camera is set to. 0 = real time video.
– Panning angle (15-345 degrees or 0)- The Brinno Pan Lapse can reverse itself, panning back and forth within this range. Set to 0 for 360 degrees continuous rotation.
Features
Create Time Lapse Videos
Slow Rotating Camera/Smartphone Stand
Compatible with Android 4.3 and Above
Wireless Bluetooth App Control
Adjustable Rotation Speed
Rotate Every 70 Seconds to 30 Days
Can Be Set to Sweep Back and Forth
1/4″-20 Tripod Mount & Camera Screw
Smartphone Clamp
Up to 30-Day Run Time
Overall
The Brinno ART200 Pan Lapse gave me total control of the speed, direction and angle I wanted my pan to be. The video runs extremely smooth when you match the rotation interval to the camera interval. The battery life is the true winner, after a month of use, the batteries still register at full. If you want to take your time lapses to the next level, panning is the extra element that you need and the ART2oo is the way to do it.
For more information or to purchase, visit www.brinno.com   MSRP $149