Brinno TLC200 PRO Time Lapse Camera Review
Active Gear Review is supported by its audience. If you purchase through links on our site, we may earn an affiliate commission.
The Brinno TLC200 Pro is the world's first HDR time lapse video camera which instantly renders actual time lapse video, without the need for post processing on a computer. The 60-gram TLC200 Pro is portable, easy-to-use and equipped with an HDR image sensor 4.2 µm pixel size that allows users to capture images in a variety of lighting conditions.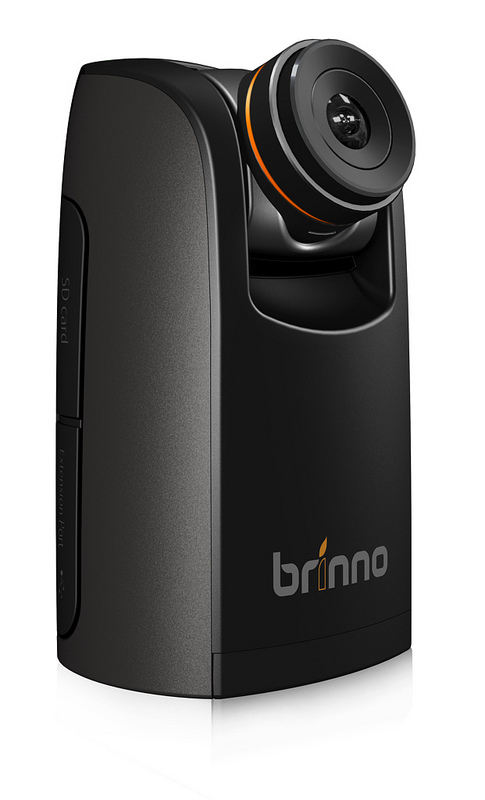 The TLC200 performs time lapse photography and instantly creates videos at 1280 x 720 resolution from the captured still images. No stitching or other post-processing is required. Choose a time interval of 0.3 sec or select one of many intervals from 1 sec – 24 hr to see change over time, whether you're recording events, projects or the natural world. There's also a setting for shooting 3-5 photos in 1 sec. Videos are compressed into smaller files for easy playback on smart devices.The Brinno TLC200 PRO will record for months on its 4 AA batteries, while saving your time lapse video to the SD Card.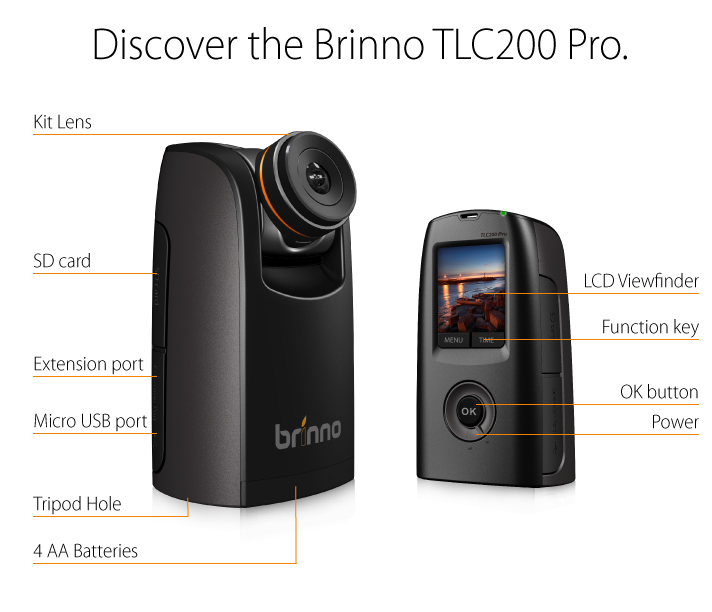 The TLC200 Pro features a 1.3MP, 1/3″, High Dynamic Range (HDR) image sensor, which helps produce great shots with high contrast, even in challenging lighting conditions like those encountered at night. The camera accepts interchangeable CS mount lenses, including the supplied 19mm (35mm equivalent) wide-angle lens, which offers a fast f/2.0 aperture for effective low-light shooting and shallow depth-of-field effects. This lens can rotate 120°. Additionally, the camera is equipped with a 1.44″ TFT LCD monitor.
Features
The TLC200 Pro has four shot settings; Daylight, Twilight, Night and Moon. The exposure, saturation, contrast, sharpness, and white balance are also adjustable. Time intervals for shots can be customized to shoot ASAP, all the way up to one shot every 24 hours. The battery life depends on different scene settings, but in certain settings, the four AA batteries can withstand up to seven days of continuous filming. A 112˚ field of view angle records a wider area so users can capture amazing, panoramic images and the camera's F.2 aspherical lens also contributes to the improved image detail or interchangeable lenses can be used to capture different styles.
1.3MP 1/3″ HDR Image Sensor
Time Lapse Videos at 1280x 720
Accepts Interchangeable CS Mount Lenses
Includes 19mm Lens (35mm Equivalent)
Fast Aperture: f/2.0
1.44″ TFT LCD Monitor
120° Lens Tilt
Time Interval: 0.3 sec – 24 hr
Powered by 4 AA Batteries
Includes 4GB SDHC Card, Supports Wi-Fi
Overall
The Brinno TLC200 only shoots up to 720p which leaves a bit to be desired in the picture quality area, but the fact that you don't have to abandon your smartphone somewhere to capture a time lapse is always a plus. The internal rendering process of stitching together photos into a time lapse is beyond brilliant, what more could one ask for, than not having to do it? What it really comes down to is setting up the TLC200 at the desired location, making sure your settings are correct, push the record button and the camera does the rest for you – set it and forget it. Shooting and creating a time lapse has never been so easy. If you have ever wanted to shoot a time lapse, but the thought of the time spent in post processing on a computer seems daunting, the TLC200 is the easiest answer.
For more information or to purchase, visit : www.amazon.com/brinno.
Specifications
Camera
Model
TLC 200 Pro
LCD Screen

1.44″ TFT LCD
Waterproof
Optional, (with the Weather Resistant Housing (ATH120))
Capture Mode
Time Lapse

Auto generation of Time Lapse video
Stop Motion

Optional, ( with the Shutter Line (ATS110))
Motion Activated
Optional, ( with the Motion Sensor (ATM100) and Weather Resistant Housing (ATH120))
Image Sensor
Type
1/3″ HDR sensor
Dynamic Range
115db
Resolution
1.3 Mega pixel
Pixel size
4.2um
Sensitivity
3650mV/lux-sec (Ultra good low light quality)
Optics Lens (BCS 019)
Type

CS Mount (Aspherical Glass Lens)
Aperture

F 2.0
Field of View

112°
Focal Length

19 mm (35mm equivalent)
Focus Distance
Manual focus from 1 cm to ∞ (factory setting: 40 cm )
Shooting Setting
Scene
Daylight, Twilight, Night, Moon, Star
White Balance
Auto, Day, Shade, Cloudy, Fluorescent Light (Cool), Fluorescent Light (Warm), Tungsten Light
Custom Image
Exposure, Saturation, Contrast, Sharpness
Recording
Time Lapse Video
Format: AVI
Resolution: 1280x 720
Still Image
Format: JPEG (only for using Shutter Line)
Resolution: 1280x 720
Memory Storage
SD Card (Supported up to 32 GB)
Time Interval
ASAP

Captures 3~ 5 photos in 1 second
Custom
From 1 second to 24 hours
Power
Power source
Battery: 4 AA Batteries
DC IN: 5V (Micro USB connector)
Battery Life
2 second time interval, captures 240,000 frames
Camera Body Dimension
Size (DxWxH)

64x 52x 107 mm
Weight

140 g (without batteries)
Color
Black